Join the team at Washington Federal Strategies for Summit 2023!
June 20-22 Bedford, MA
Event link: http://www.patriotsroostaoc.org/Space_Conference2023/
---
About Summit 2023
In collaboration with DOT&E TETRA, Georgia Tech Research Institute (GTRI), the Air Force, and the Association of Old Crows (AOC), MITRE will host a Summit on Space-Cyber Resiliency with particular focus on challenges and opportunities to address the intersection of Space and Strategic Operations including the vision on the future Command, Control, and Communications architecture. The title for the conference is: "SUMMIT 2023: Resilient Space for Strategic Operations."
The event, SUMMIT 2023: Resilient Space for Strategic Operations, will take place at MITRE's Bedford MA campus during June 20-22, 2023. Like in previous Space-Cyber summits, attendance and participation is expected from DoD, Intelligence Community, FFRDC, and Industry.
---
Summit 2023 Objectives
Conduct a broad community discussion at the unclassified level to –

Set the stage for discussions on challenges and needs.
Create opportunities to strengthen technical collaboration and information exchanges across the community of space and strategic operations domain stakeholders.
Address rapidly changing technology trends from both commercial and military sectors to address challenges and needs.

Conduct extensive detailed classified discussions on:

Emerging challenges in Space, including physical and spectral congestion as well as other potential significant threats to include nuclear and non-nuclear environments.
Space dependencies and emerging capabilities needed by the future Nuclear C3 (NC3) architecture.
Emerging Space, Cyber, and electronic warfare (EW) technologies and efforts for system protection.
Current Space threat analysis and simulation capabilities.
Current and projected operational DOD space capabilities.
Updates on ongoing DOT&E TETRA Space EW, and Space Enabled Cyber Operations (SECO) T&E working groups.
Updates on ongoing Space EW and SECO related efforts such as investment priorities in Space T&E need areas

Build stronger technical collaboration across the community of space domain stakeholders as well as to help integrate and influence community efforts in Space and NC3 as we consider technology developments and alignments that address strengths, weaknesses, and vulnerabilities of adversary, U.S., and Allied forces.
---
Washington Federal Strategies will be presenting our Learn to Launch program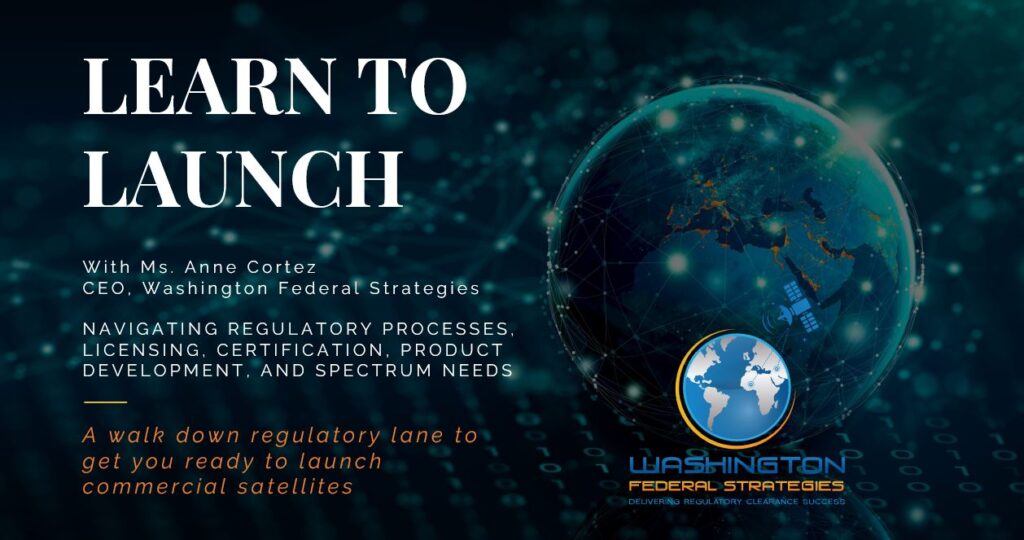 In our Learn to Launch session at Summit 2023, you will learn the things you must consider to effectively navigate the often complicated and confusing regulatory process: how to obtain the proper licensing and how to develop a product that is streamlined for regulatory clearance success.
With nearly three decades of experience in regulatory success, Washington Federal Strategies trains space innovation companies to build in-house licensing skills with our "Learn to Launch" basic class and our more robust "License to Launch" programs.
Participants leave with a solid understanding of processes for product licensing, experimental licensing, regulatory compliance, and spectrum selection/utilization.
THE CHALLENGE
Many companies successfully develop a viable product, and instinctively they want to cue it up for launch. It's not until then that too many realize that they need to license it. This process can take a significant amount of time. Rather than allow it to become a hurdle, licensing can be going on simultaneously along side development. Having an internal process and support team to engage with regulatory agencies at the right time, and beginning the licensing process, is critical to your company's success. Some licensing processes are complicated, and consuming, yet not all are.
The goal of this session is to provide your team with the list of things to consider, and some takeaways, to help your team understand the basics of the process and to get you through your straightforward licensing needs.
SESSION TOPICS
Spectrum regulation – Understanding who the key regulators are, what they regulate, and how to leverage that in your favor.
Licensing and Equipment Certification – Operating within regulations, do's and don'ts
Spectrum selection – The spectrum you design your product for will dictate not just your capabilities now, but into the future.
Experimental licensing basics – How-to and why it matters to get it right. Coordinating your roadmap with the right tracking tools.
Getting product to market – Federal, commercial, international considerations
Imagery licensing – Imagery from space is regulated too, and many launches need imagery
When to call for help- Spectrum selection, testing across broad swaths of spectrum, licensing your waveforms.